QSFP28 SR4
QSFP28 SR4 is also a parallel optical transceiver. It offers four channels for transmitting and four channels for receiving, each capable of 25Gb/s operation for an aggregate data rate of 100Gbps on 100 meters of multimode fiber, which is similar to the CFP LR4. However, the QSFP28 SR4 doesn't multiplex the optical signals into WDM for transmitting. Its functional diagram is shown below.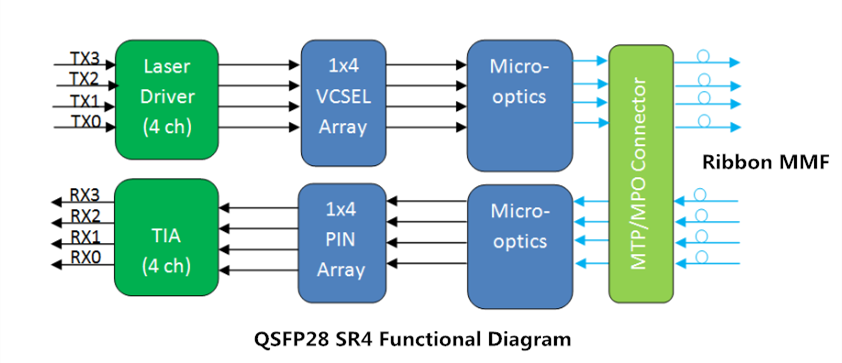 QSFP28 PSM4
The functional mode of QSFP28 PSM4 is much similar to that of QSFP28 SR4. It uses four independent transmit and receive channels. Each channel operates at 25Gbps. The difference mainly lies in the fiber they use. QSFP28 PSM4 works on single mode ribbon fiber cable, while QSFP28 SR4 works on multimode ribbon fiber cables.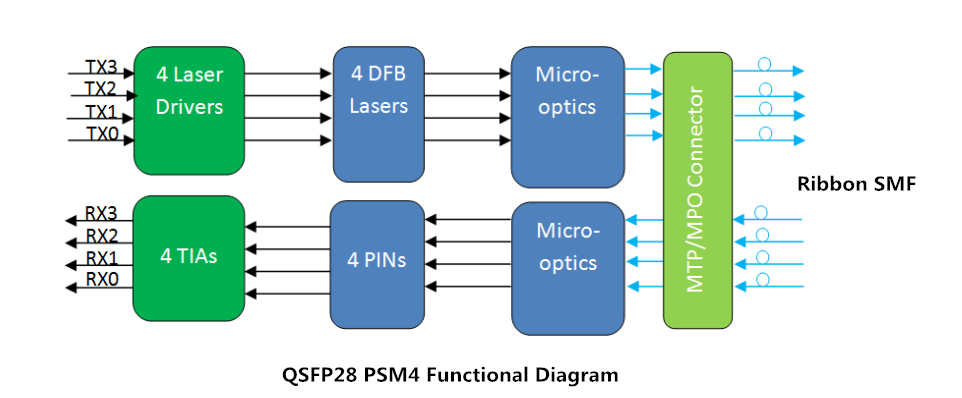 QSFP28 CWDM4
Similar to PSM4, the QSFP28 CWDM4 also uses 4x25Gbps to achieve 100Gbps. But the difference is that the CWDM4 utilizes an optical MUX and DEMUX to reduce the fiber it needs, which is like the CFP LR4. It only needs a duplex single mode fiber cable to connect two 100G CWDM4 optical modules. At present, CWDM4 links are used in both 100G CFP4 or the QSFP28 optical transceivers.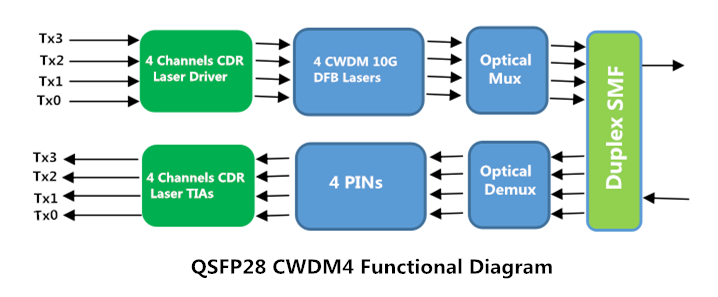 #Qsfp28
#100G
#CWDM4
#Module
#SR4